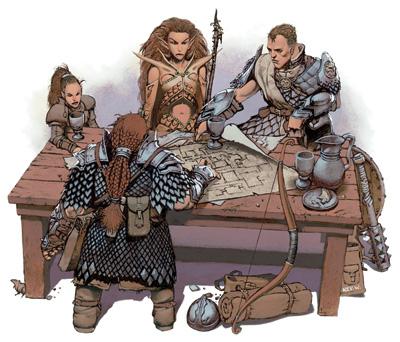 What kind of player do I want at my table?
The good kind.
I want a player that sings a song of his tales.
I want a player that opens the door even after being told "You didn't check it for traps, are you sure you want to open it?"
I want a player that tries to bend the rules in his favor, but can accept the word of the DM ruling.
I want a player that when presented with a problem, looks to his mind instead of his sheet.
I want a player that doesn't forget the basic abilities of his race.
I want a schemer and a planner and builder and a thinker.
I want players without cell phones or tablets. I want players who are active with their own ideas. I want them to be engaged even while other people are playing.
I want a player who doesn't complain about the rules. I
need
one who's mature enough to play without stupid widgets like skills and feats.
I want someone that is gonna show up - and if they won't, they'll call or write or text the day before to let me know the score.
I want someone to have some goals, and bring them to my game. I want the game to be directed by the players, not the Dungeon Master.
I want someone that bucks the walls, tries to knock anything they perceive as a train off the rails and makes the game their own.
I
need
a player who acts like an adult. Grown up with a collegiate degree and children doesn't stop someone from acting like a child.